This hearty Mexican sweet potato chicken soup is loaded with veggies, lean protein and has a smoky, sweet flavor from dried guajillo Mexican peppers. Grain/gluten-free, diary-free, paleo and whole30 friendly.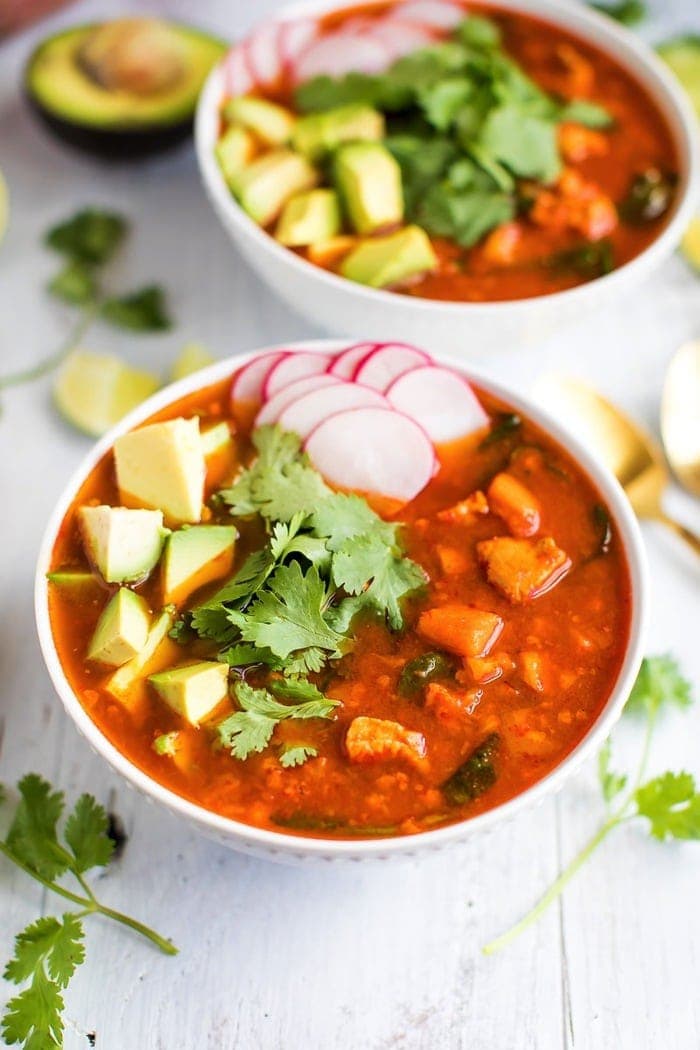 Okay, I'm going to come right out and admit something I'm kind of embarrassed about… cooking with dried peppers has always intimated me. I used to walk past them in the store and think, what the heck do people do with those things? This is naive, but I honestly thought that all dried peppers were super spicy and I had no clue how I could use them in my cooking.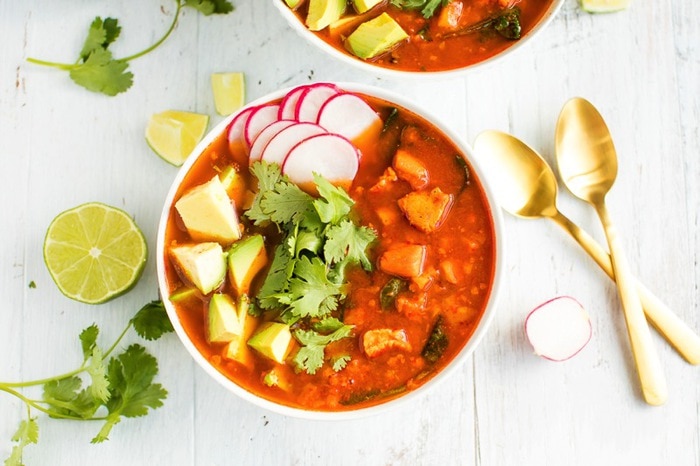 It wasn't until I attended a cooking demo during a yoga retreat at the Veritas Farmhouse where the chef used dried guajillo Mexican peppers in a creamy sweet potato soup that I realized they're actually pretty easy to work with and they're awesome for adding a unique depth of flavor and spice.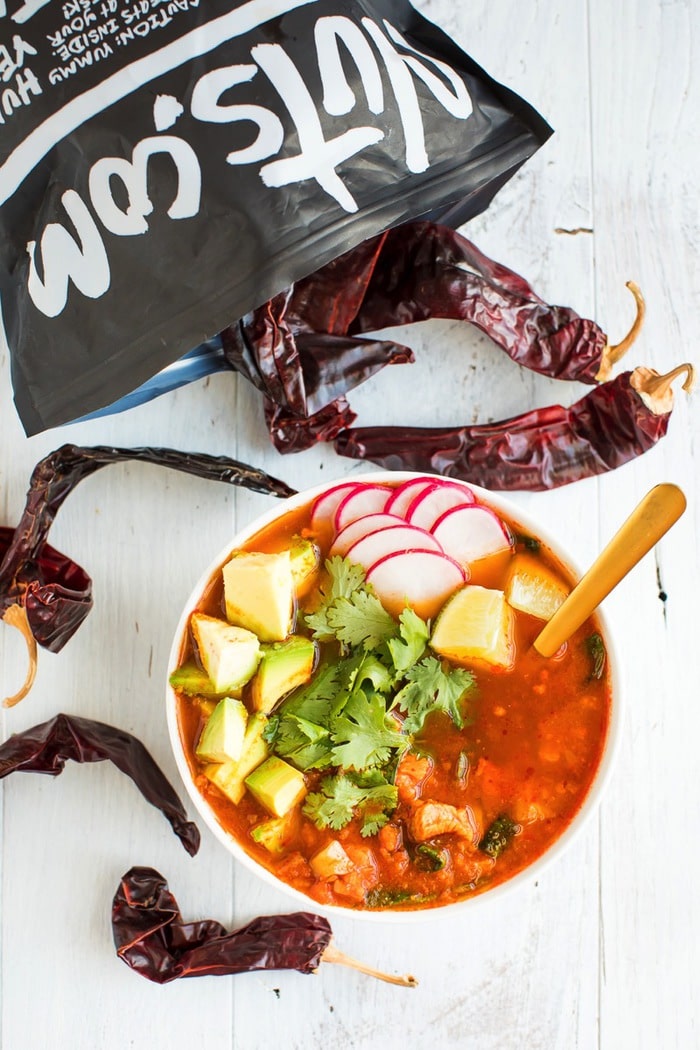 I'd never heard of guajillo Mexican peppers before, but I quickly learned that they are one of the most popular chiles used in Mexican cuisine. They're a little on the sweeter side with a hint of tang (similar to a cranberry) and a mild smokiness. I wouldn't consider these peppers spicy so if you're not a huge fan of spicy foods this would likely be a good pepper to test out.
After trying the amazing soup at the retreat I decided it was officially time to conquer my unnecessary fear of cooking with dried peppers at home and ordered a bag of guajillo Mexican peppers from nuts.com. I remade the creamy sweet potato soup that we had at the retreat, which is thick, rich and oh so creamy.
We enjoyed it, but I wanted to experiment with making a chunky soup with more veggies and protein so that it could be eaten as a meal. And that's how this Mexican sweet potato soup with cauliflower, spinach and chicken came to be.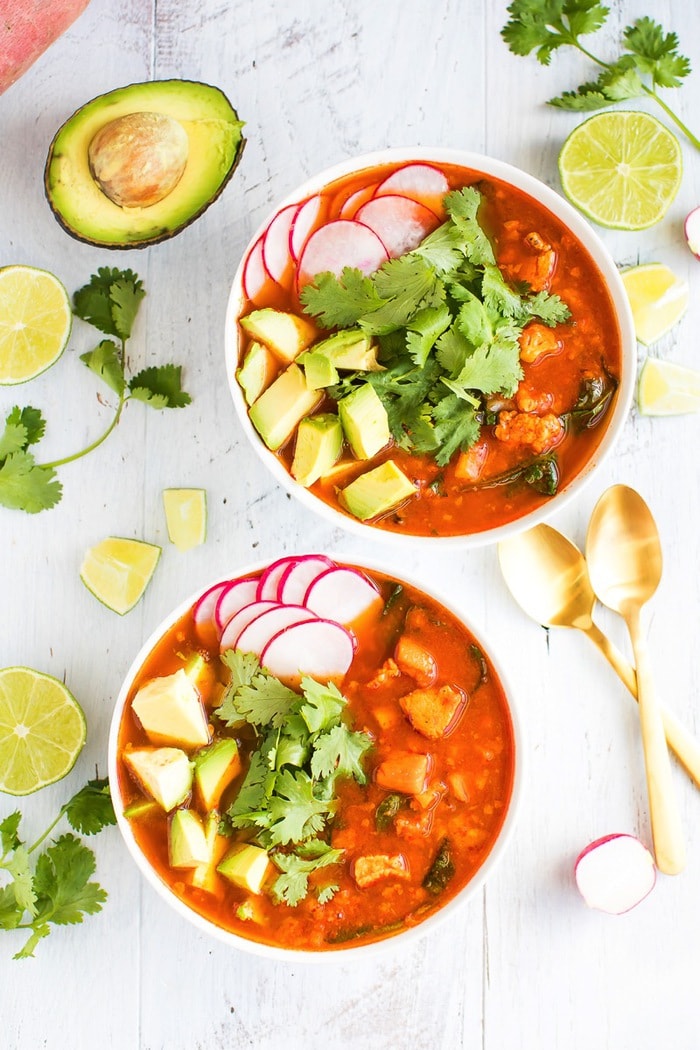 Working with the dried peppers for this soup is super simple and not intimating at all. You simply remove the stems and dump out all the seeds from inside the peppers. Place the peppers in a saucepan with water, bring to a boil and simmer for about 10 minutes or until they've softened. That's it! At this point they're rehydrated and ready to be used!
What I really like about this soup recipe is that you start out by making and sautéing a flavorful chile sauce, made from the rehydrated guajillo peppers, rather than the standard onion, garlic, celery, carrot sauté. This makes for a savory, smoky broth with just a hint of spice.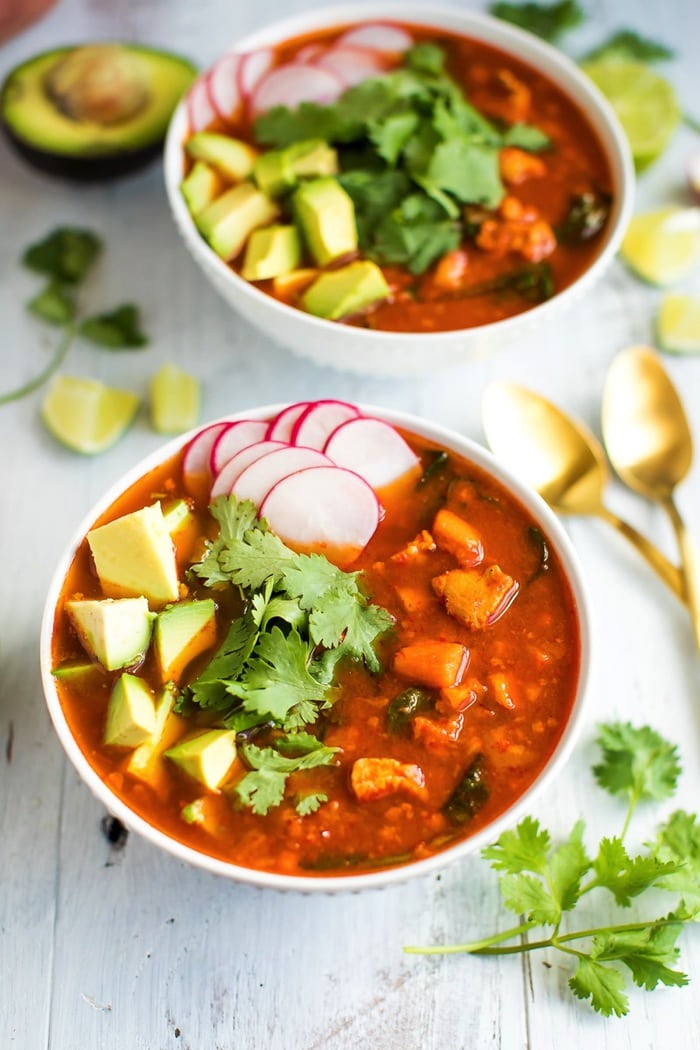 To make the soup a meal I added protein and lots of veggies including boneless skinless chicken, sweet potatoes, cauliflower and spinach. The combo makes for a healthy, chunky soup with a variety of textures… especially when topped with avocado, crunchy radishes and a little cilantro. We absolutely LOVE this soup and I think you're going to love it as well.